Friends,
I hope this note finds you well and that you had a joyous Easter with your families. It has been another busy and exciting couple of weeks in our office! In this edition of the Capitol Update, you can read about constituent day in the HD 130 district office, my visit to Baylor College of Medicine, and a brief reminder about the importance of voting.
Constituent day in the district office
Visiting my alma mater, Baylor College of Medicine
Reminder—Get out and vote!
As always, feel free to call my office by phone at (512) 463-0661 or email District130.Oliverson@House.Texas.Gov. If you have a question about a particular bill that passed this session, please do not hesitate to reach out. Thank you for giving me the chance to serve as your State Representative in 2022 and for placing your trust in me to continue doing so in the future
Constituent Day in HD 130!
Every few months, our District Director hosts a constituent day in our district office. This is an opportunity for us to hear directly from our community about your concerns, accomplishments, and goals for HD 130. I cherish these opportunities and will always remain open to hearing your thoughts.
Trinity Snow & Riley Brister sharing their concerns on the grading scale of AP courses with me.
Carolina Cano stopped by from the Houston Food Bank to share her goals for the food bank and some upcoming events.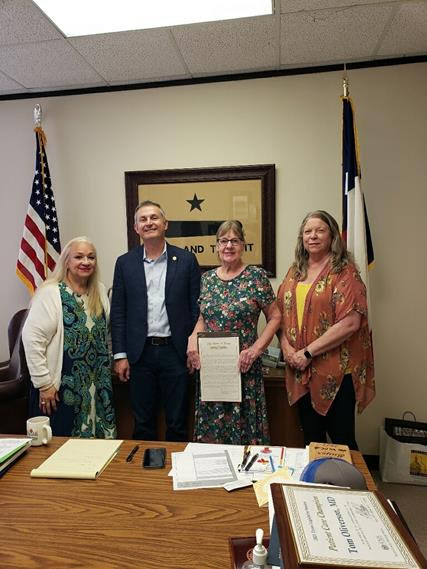 Congratulating the most deserving constituent on her retirement.
I had a great visit to honor Saathvik Dabbara on becoming an Eagle Scout, what an accomplishment!
Thank you all for taking the time to chat with me!
Baylor College of Medicine Visit
Last week, I had the incredible opportunity to join President Klotman of Baylor College of Medicine for lunch and a nice visit back to my alma mater. He is a wonderful leader for the medical school, and I enjoyed hearing about his hopes and vision for the program. I also got to share some old stories from my medical school days. Following my time at Sam Houston State University, I had the privilege of attending Baylor College of Medicine and earning an outstanding medical education. Always good to go back to this fantastic institution!
Reminder! Go Vote HD 130!
The two propositions below will be on the ballot on May 7th. Please reach out to my Capitol office if you have any questions.
Proposition 1: Authorizes the state legislature to reduce the amount of the limitation on total ad valorem taxes imposed on the homesteads of elderly or disabled residents for school maintenance and operations to reflect any statutory reduction from the preceding tax year.
Proposition 2: The constitutional amendment increasing the amount of residence homestead exemption from ad valorem taxation for public school purposes from 25,000 to 40,000.
If you would like to read more about these proposed amendments, you can do so here.
Dr. Tom Oliverson
Republican State Representative
House District 130
Follow us on Facebook and Twitter for updates.